Deth Crux – Mutant Flesh LP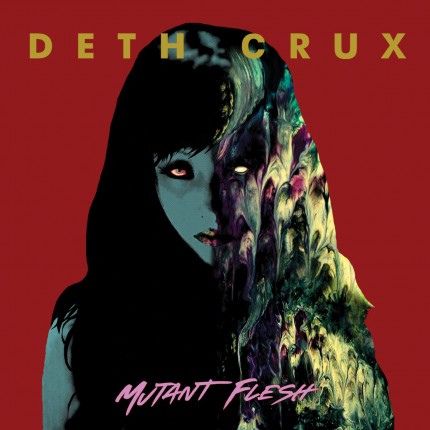 Weiterführende Links zu "Deth Crux – Mutant Flesh LP"
Los Angeles deathrock night stalkers Deth Crux spawned from the L.A. extreme metal underground,...
mehr
Los Angeles deathrock night stalkers Deth Crux spawned from the L.A. extreme metal underground, coalescing around members of doom legends Buried at Sea and local black/death juggernauts Lightning Swords of Death. They debuted in 2015 with their now classic Pears of Anguish demo tape, released that year by underground tape label T(R)APE. The demo tape was met with much acclaim, stirring up quite a buzz and going quickly sold out as the band was already being hailed as a rising promise in US deathrock. In the wake of the tape's success the band spent the ensuing months writing new music and then booked studio time with famed sound engineer and fellow Buried at Sea bandmate Sanford Parker (Leviathan, Wovenhand, Voivod etc.) to record what would become their shapeshifting and tumultuous debut album Mutant Flesh, co-released on tape and vinyl in the US by Sentient Ruin and on CD by Italian dark metal label Code666. Though their sound is easily recognizable as descending from the gloom and decadence of iconic UK bands like Bauhaus, Sisters of Mercy, and Fields of the Nephilim, as well as from legendary US deathrock deviants Christian Death, Deth Crux are all but an easy band to pin down, mostly due to their mutating and chameleon-like approach to post-punk, where beauty and ugliness, seduction and perversion, dream and nightmare interchange constantly and construct the foundation of their sound within a framework of profound dualism and ambiguity. What sets the band most apart from their gothic rock contemporaries however is their highly personal and unique aesthetic inspired and influenced by the many and darkest faces of their city of origin, Los Angeles, which the band have meticulously distilled to re-paint their home city upside down and inside out, exaggerating its dystopian traits and turning it into a primal force of inspiration for the music and lyrics. The result is a staggering audio-visual experience where the aforementioned musical influences are set against a backdrop of urban chaos and decadence, glamour, sex, perversion, seduction, death, and body horror, and then stirred into a blood-soaked and hallucinating rock and roll horror story about deviated and once-human beings aimlessly and erratically populating and roaming a damned neon hellscape.