Year Of No Light - Ausserwelt 2xLP (2. Versionen)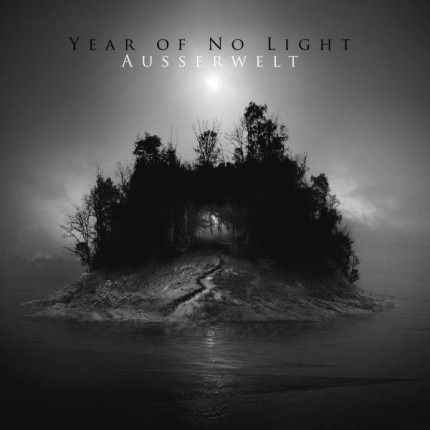 Related links to "Year Of No Light - Ausserwelt 2xLP (2. Versionen)"
Vier Jahre sind seit dem Debüt "Nord" der 2001 gegründeten Year Of No Light aus Bordeaux ins...
more
Vier Jahre sind seit dem Debüt "Nord" der 2001 gegründeten Year Of No Light aus Bordeaux ins Land gegangen. Einen Sänger weniger, dafür aber um einen zusätzlichen Schlagzeuger sowie Gitarristen verstärkt, zeigen sich die sechs Musiker auf "Ausserwelt" gereift und präsentieren eine ausgezeichnete Mischung aus Sludge, Doom Metal, Post Hardcore, Drone- und Ambient-Versatzstücken sowie sogar ein bisschen Black Metal. Zuerst fällt auf, dass "Ausserwelt" – neben seinem unkonventionellen Titel auch ohne Gesang unglaublich gut funktioniert und zu keinem Zeitpunkt das Gefühl entsteht, dass die nun wieder ausschließlich instrumental agierenden Year Of No Light ihre Musik um etwas ergänzen müssten. Dafür geschieht in den vier Songs, die es auf 48 Minuten Spielzeit bringen, erfreulicherweise sehr viel, was allein schon an den beiden Perkussionisten liegt, und im Gegensatz zu beispielsweise TEPHRA oder auch KYLESA wird das Potenzial, das sich hieraus ergibt, wesentlich besser ausgeschöpft und umgesetzt. Hinzu kommen die drei Gitarristen [!], sodass die Riffs und Melodien schlüssig ausgespielt und um viele kleine Details im Riff- und Melodie- bzw. Effektbereich ergänzt werden konnten, die einem beim ersten Hören gar nicht unbedingt auffallen. Gelungen ist auch die Verbindung mit der optischen Gestaltung von "Ausserwelt", da das Motiv auf einem Gemälde von Arnold Böcklin, "Die Toteninsel", basiert und diesen Gedanken weiterverfolgt: Eine Reise ins Unbekannte, in eine Zwischen- oder Außenwelt, gleichzeitig eine schier unergründliche Insel im Nichts, Terra incognita sozusagen, aber gleichermaßen auch eine Reise ins innere Ich und das Unterbewusste. Sprich: Ganz schön abstrakt, aber umso mehr eindrücklich umgesetzt, denn selbst wenn "Ausserwelt" natürlich auch ohne diese Ansätze musikalisch sehr gut funktioniert und stets sehr gute Akzente zu setzen weiß, gewinnt das zweite Studioalbum von Year Of No Light dadurch noch an zusätzlicher Tiefe. Somit werden die einzelnen Songs zu unterschiedlichen Etappen dieser geheimnisvollen Reise, denn auch die Musik verändert sich mit deren zunehmender Dauer und je mehr man sich in die düsteren und unbekannten, manchmal gar unheimlichen Abschnitte der abgebildeten Insel vorwagt, ehe auf "Abbesse" der Höhepunkt erreicht wird und sogar einige kurze Blast-Beat-Passagen eingeflochten werden, die keineswegs deplatziert wirken, bevor abschließend noch einmal sämtliche Lava-Riff-Wände aufgefahren werden. An dieser eindrücklichen Wirkung ist außerdem die exzellente Produktion maßgeblich beteiligt, zumal das Material von der Band in einem alten, abgeschiedenen Theatersaal eingespielt und dann von niemand Geringerem als Alan Douches gemastert wurde. Sprich: "Ausserwelt" hat genau den schweren, erdigen, wuchtigen, aber dennoch transparenten Sound, den es braucht. Year Of No Light haben sich hörbar sehr viele Gedanken über ihre Musik und die Struktur von "Ausserwelt" gemacht, denn das Album wirkt in sich wie eine geschlossene Einheit, die den Hörer bereits nach kurzer Zeit in ihren Bann zieht und auf diese spannende Reise entführt. Wer sich darauf einlässt und dem Album dafür ein wenig Zeit zur Entfaltung gibt, wird in "Ausserwelt" ein großartiges und eigenständiges Stück Musik finden, das sich gekonnt zwischen den Eckpfeilern Sludge, Doom, Post Hardcore und Ambient bewegt und das einem mit jedem Durchlauf zusätzliche interessante Details offenbaren wird. Klasse!