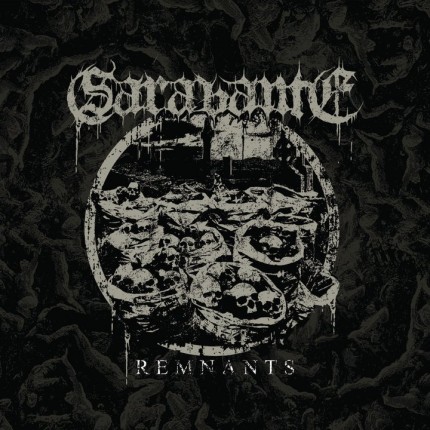 Related links to "Sarabante - Remnants LP"
COVER HAS A LITTLE SEEMSPLIT AND LITTLE CORNER DAMAGES!!! From civil unrest in this country...
more
COVER HAS A LITTLE SEEMSPLIT AND LITTLE CORNER DAMAGES!!! From civil unrest in this country to a long and severe situation in another. Throughout very recent times Greece has had its fair share of extreme discontent which has resulted from the proposed and then implemented austerity measures designed to save the country and its worsening economic climate. You would have to go as far back as the transition from a war economy after the Second World War in Western Europe to appreciate how much the belt in Greece has been tightened. It's no wonder Athenians have regularly taken to Syntagma square and elsewhere to vent their frustration. Anyway, that strenuous link to to Athens based Sarabante is as much to ease into this text as much as it is to highlight the financial pressures that many bands, promoters and independent labels in Greece will be experiencing now and over the next few years. But it's no wonder that there is such a strong crust/hardcore scene in parts of Greece. The grind scene is big enough with the anti-authoritarian/anarchist crowd for a generous amount of gigs to take place on University grounds and squats, and on the whole it seems more likely for promoters to continue to book local acts and those across the Balkans rather than the more expensive tours from Western Europe and beyond. Whereas a lot of the crust bands around Athens seem to be around for a year, releasing demos or EPs that sound similar to Tragedy or Amebix before parting ways, Sarabante are back after a hiatus from the stage. And if the US won't go to the Balkans, then the Balkans would have to go to the US. In this case Sarabante were recommended to Southern Lord by Ashes Rise guitarist Brad Boatright, who mastered the band's debut. They do sound similar to the aforementioned yet the slower tempo tracks and atmospherics also point to bands such as Isis and early Neurosis – a suffocating and pressing sound of bass and harsh guitar. Amongst this a is a politically charged band with the aggresssion of Victims though not as extreme as some of the bands from Salonica; but a solid hardcore punk structure and aggressive riffing should please those who lean towards the tighther sounds of d-beat.