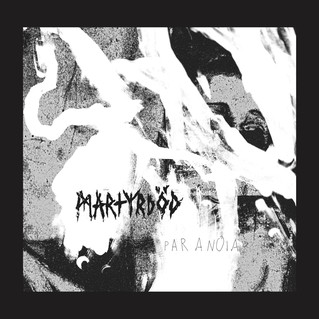 Related links to "Martydöd - Paranoia CD"
Martyrdöd have, up until now, been the dark horses of the burgeoning Crust movement that's...
more
Martyrdöd have, up until now, been the dark horses of the burgeoning Crust movement that's fairly exploded out of Scandinavia over the past decade or so. Having previously released three storming albums on relatively obscure labels the musical stars have certainly aligned, with them getting their latest, and quite frankly stunning, album 'Paranoia' released by Southern Lord.
If opening track 'Nog Ar Nog' doesn't take your breath away, there's no hope for you. The music literally hits you like a tsunami. The mix of ferociously heavy riffs and fucking unbelievable dark melodies is monstrous. I have always marvelled at the guitar work of Mikael (Mikke) Kjellmann as it is the absolute pinnacle of heaviness and melody entwined. His stint in Skitsystem coincidentally produced easily their most intense record ('Stigmata') and it's no surprise that he's bang on his game here. If you're familiar with their previous works they are effectively taking the ferocious tempos of 'In Extremis' and melding the deeply dark melodies of 'Sekt' and then cranking everything up about 200%.
Seriously, every spin of this record has you muttering "Fucking Hell" to yourself. Take the title track for instance. The mid-paced intro is broodingly venomous, before the drums and bass kick in and then you're lost in the track. The rhythms pummel you, the melodies come at you from all angles, the venom in Mikke's vocals is frightening. And the production and sound on the entire record is nothing short of murderous. And the thing is, the album does not let up for one second. 'En Tragick Zeitgeist' and 'Overkom Er Radsla' highlight this fact more than anything. These tracks in a live environment are going to be something to behold, because watching any band who can produce such extreme masterpieces as these will be something else.
The other thing with Martyrdöd as well is the sheer progression they've made through the course of their career. They may be labelled as part of the Crust movement, and there's no denying the influence, but they are now so far removed from the band who recorded their debut a decade ago. They can still blast some straight up beer-chuckers like 'Det Sker Samtigidt' but they are far more likely to come up with the utterly brilliant, and standout track of a standout album, 'Ett Hjarta Av Eld'.
Honestly, whether you're drawn to the more extreme side of music or not, you cannot go without listening to 'Paranoia'. It is a modern day masterpiece and a total fucking behemoth of an album.