Downfall Of Gaia - Aeon Unveils the Thrones of Decay CD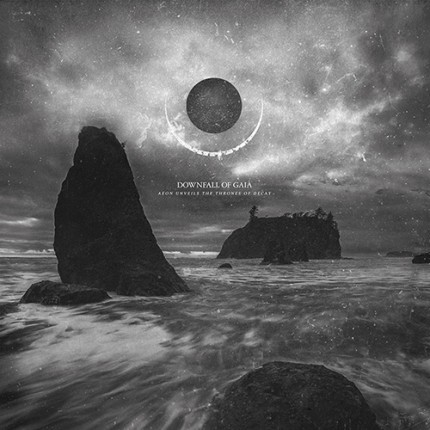 Item number:

3984-15335-2
Related links to "Downfall Of Gaia - Aeon Unveils the Thrones of Decay CD"
Unaufhaltsam bahnt sich eine dunkle Wand ihren Weg, umhüllt dich, absorbiert deinen Geist...
more
Unaufhaltsam bahnt sich eine dunkle Wand ihren Weg, umhüllt dich, absorbiert deinen Geist und nimmt dich mit in das Reich der mächtigen Klangwelten von Downfall of Gaia.
Gegründet wurde das Quartett 2008 und besteht nach einigen Wechseln am Schlagzeug nun aus Dominik Goncalves dos Reis (Gitarre + Gesang), Peter Wolff (Gitarre + Gesang), Anton Lisovoj (Bass + Gesang) sowie Michael Kadnar (Schlagzeug), welche sich auf Berlin, Hamburg und sogar New York City verteilen.
Auch wenn die Band in der Crust-Punk-Szene verwurzelt ist, verbindet man sie mittlerweile mit einem Sound, der eher an die Wucht einer Lawine aus schwarzer Erde, Felsbrocken und dreckigem Schlamm erinnert, sowie Texten, die sich poetisch mit der dunklen Seiten des Daseins befassen.
Zu Beginn 2008 brachte die Band ein noch sehr vom D-Beat geprägtes Demo und ein Split-Tape mit der französischen Band Kazan heraus, gefolgt von einer Tour-EP 2009 und dem Debütalbum "Epos" 2010, das mit Hilfe mehrerer DIY-Labels gestemmt wurde.
Die Verbundenheit zur DIY- und Punk-Szene führte dazu, dass 2011 eine Split-LP mit In The Hearts Of Emperors auf Alerta Antifascista, einem der wichtigsten hiesigen Punk-Label, sowie Moment Of Collapse und Shove-Records erschien.
Da die Band klanglich nie stagnieren wollte, veränderte sich ihr Sound deutlich – fort vom schnellen, Crust-beeinflussten Frühwerk und hin zu längeren, vor allem aber langsameren Stücken, die dafür umso gewaltiger klangen und eindeutig auf Doom, Sludge sowie andere kriechende Stile zurückzuführen waren.
2012 erschien mit diesem erneuerten Sound auf dem legendären Label Metal Blade der nächste Longplayer "Suffocating In The Swarm Of Cranes", der die Erwartungen nach unendlicher Schwere dürstenden Fans als erfüllte und des öfteren in den Jahresbestenlisten verschiedener Kritiker auftauchte, also allerorts mit Lob überhäuft wurde.
Wenn Downfall of Gaia nicht probten oder im Studio hockten, tourten sie seit Beginn ihres Wirkens gerne häufig und überall. Fast alle europäischen Länder wurden bereist und 2011 sowie 2013 auch in den Vereinigten Staaten gespielt. 2012 spielte die Combo auch in Russland wo sie etwa in Moskau Fans ausrasten ließ. Allein 2013 gab sie weltweit über 100 Konzerte. 2014 spielte sie unter anderem mit Toxic Holocaust, Black Tusk oder Neurosis und gastierte beim kultigen Hellfest in Frankreich.
Ebenfalls 2014 gönnten sich die Musiker eine Pause, denn die Zeit für ihre zweite Scheibe über Metal Blade war reif. Deshalb verschanzten sie sich im Kölner '79 Sound Studio und begannen, an neuem Stoff zu arbeiten. Gemischt wurde das Ergebnis im renommierten Atomic Garden Studio in der Bay Area von San Francisco, gemastert hingegen im bekannten Audiosiege-Studio in Portland im US-Bundestaat Oregon. Jetzt ist das neue Meisterwerk vollendet und bereit, über die gespannten HörerInnen hereinzubrechen. Auch diesmal gibt es ein Konzept. Die Band hadert in ihren Texten mit dem vielleicht mächtigsten Gegner des Menschen: der Zeit, die unerbittlich voranschreitet. Dementsprechend sparen sich Downfall of Gaia heuer die ruhigeren Songfragmente sowie Pausen und prügeln unerbittlich ab der ersten Sekunde durch dieses Album, das den Titel "Aeon Unveils The Thrones Of Decay" trägt und am 7. November 2014 erscheint.