Overmars / Starkweather - Split LP (4 Versionen)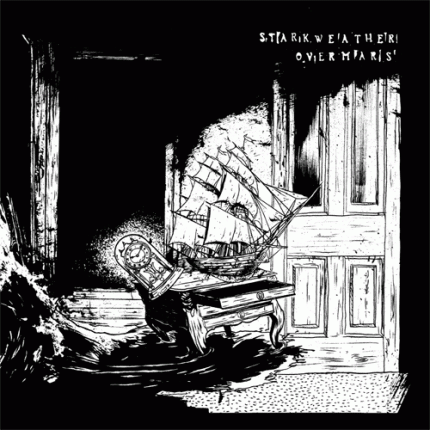 Related links to "Overmars / Starkweather - Split LP (4 Versionen)"
Pressing Details: 100x blue/brown mix, 100x red, 100x white + 200x black Vinyl! Puh! Was...
more
Pressing Details: 100x blue/brown mix, 100x red, 100x white + 200x black Vinyl!
Puh! Was OVERMARS auf dieser Split LP musikalisch darbieten, ist - gelinde gesagt - schwer verdauliche Kost. Schon auf dem Vorgänger "Affliction, Endocrime…Vertigo" + "Born Again" zeigten sich die Franzosen wenig kompromissbereit, wenn es um musikalische Konventionen ging. Diese Linie führen sie mit ihrem neuen Album konsequent fort. Das Album besteht aus zwei Songs. Das Konzept, welches OVERMARS auf dieser Split verfolgten, war die Realisation totaler künstlerischer Freiheit. Dies bedeutet, dass die Band jenseits gängiger Songstrukturen agiert und dabei verschiedene Stile miteinander vermischt. Auch musste man die Klänge nicht in das enge Korsett einer Zeitvorgabe pressen, die ein herkömmlicher Song in seinem Aufbau nun mal hat. Genau dies erwies sich aber auch als besonders schwierig. Denn plötzlich stand die Band vor der totalen Freiheit, dem großen Nichts, und musste den leeren Raum mit Klängen füllen. Dies tat sie mit dröhnenden, hypnotischen Gitarren, verzweifelten Schreien und einem extrem langsam gespielten Schlagzeug. Hinzu kommen verschiedene Geräuschkulissen und der Einsatz von elektronischen Effekten. OVERMARS nehmen den Hörer mit auf eine Reise in eine verstörend wirkende Welt. Lichtblicke gibt es auch auf dieser Platte keine. Absolute Dunkelheit, Tristesse und Verzweiflung zeichnen das Bild einer vom Leben gepeinigten Seele. Die verschiedenen Stile, die OVERMARS zu ihrem eigenen Sound zusammenführen, sind mannigfaltig. Und doch kann man die Musik der Franzosen nicht durch die bloße Aufzählung ihrer Einflüsse erklären. Punk, Hardcore, Doom, Noise, Black Metal, Death Metal und Experimentalklänge sind nur einige Zutaten, aus denen OVERMARS dieses Monster erschaffen haben.
STARKWEATHER haben endlich wieder neue Songs!!! Und was für Monster! Zwei manische, beklemmende und fordernde Songs, bei denen Wörter wie "Abwechslung", "Innovation", "Atmosphäre", "Spannung" und "Begeisterung" nicht nur groß, sondern in Graffiti großen Lettern geschrieben wird. Teilweise lava-artig treibende, dann wieder total aufwühlend aufbrausende und heavy wirkende und atmosphärisch dichte Stücke, die den Hörer begeistert und verstört zugleich zurücklassen...absolutes Monumentalwerk!! Vielleicht noch am ehesten für Fans von Today Is The Day und Dillinger Escape Plan zu empfehlen – Killer!