Vestiges / Panopticon - Split LP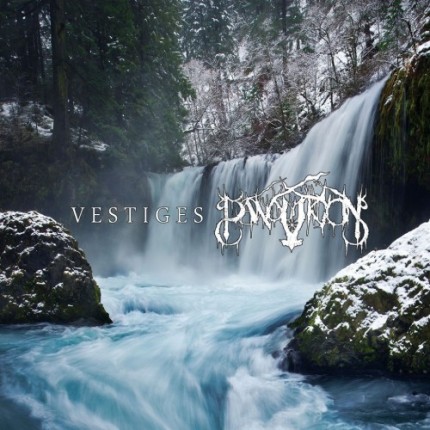 Related links to "Vestiges / Panopticon - Split LP"
Two of the most interesting and musically original U.S. extreme metal bands now going, Vestiges...
more
Two of the most interesting and musically original U.S. extreme metal bands now going, Vestiges and Panopticon, have teamed up for a split release that became available as a digital download two days ago, with vinyl to come. If you know anything about these bands, then chances are your expectations will be high — and you won't be disappointed.
Vestiges from Washington, DC, band have dedicated themselves to a long-term musical narrative about man's degradation of nature and the consequences that has brought, and will bring. The story began in their excellent 2010 album The Descent of Man, with songs named after chapter headings — "I" through "V". The story continued with chapter VI in a 2011 split release with Ghaust, and then around the beginning of this year they began streaming the next two chapters, "VII" and "VIII", on their web page and Bandcamp. Those most recent two songs are the Vestiges contributions to this current split with Panopticon. The two songs flow seamlessly from one to the next, making them essentially one piece of music exceeding 18 minutes in length. It casts a dark, powerful spell. "VII" could be thought of as an extended overture. It's almost entirely instrumental, beginning with droning ambient sounds and emphatic piano chords and then adding huge, prolonged bass notes and eventually the clash and march of cymbals and snare drum. It builds in volume and intensity until the music explodes at the beginning of "VIII". "VIII" moves between passages of blasting, black-metal intensity — thundering percussion, moving walls of tremolo guitar chords, and vocals that shriek and roar — and more subdued atmospheric segments, varying between moments of funereal doom and drifting ambience accented by extended vibrating bass tones. In the final minute, the band begin to stomp and roll in a powerful driving rhythm which proves that Vestiges can kick ass as well as cast spells. Together, "VII" and "VIII" are brooding and bleakly beautiful, both harrowing and hypnotic. They're further proof that Vestiges are a band who really deserve a lot more attention than they've received up to now.
Panopticon, on the other hand, has received plenty of attention over the last year, and rightly so. Last year's Kentucky appeared on a remarkable number of year-end lists and was hands-down one of the most engrossing and thought-provoking albums I heard in 2012. It really sounded like nothing else. The fact that it was the achievement of just one person (Austin L. Lunn) made it all the more remarkable.
Panopticon contributes three songs to this split. "A Letter" is the longest, at over 9 minutes, and it's thoroughly electrifying. For most of the song, which is shrouded in a pleasing mantle of distortion, there's a fascinating contrast between the sweeping, layered, post-metal-style reverberating guitar chords and trilling tremolo melodies that carry one part of the music's emotional impact and the frenzied, complex rhythmic interplay going on between the bass and drums down below. That multi-faceted assault on the senses takes a breather about 6 minutes in, giving way to a slow, plaintive guitar melody that proves to be just as transfixing as the supercharged balance of the song. The second song is built on contrasts, too. On the one hand, it features a prominent, warm bass line and a chiming guitar melody that's more light-hearted than "A Letter". On the other hand, the paint-scraping vocals are volatile and lung-bursting in their passion, and the drumming is again a marvel of acrobatic complexity. And the finish markedly dials up the intensity level. The third Panopticon track, "Collapse and Die", is a cover of a song by a now-defunct metal band from Arizona named Suicide Nation. It just rips right from the get-go, a blistering, head-battering, black-metal beatdown with a hint of crust-punk rhythm and more off-the-hook drumming — but it's wrapped in an epic, flowing melody. And wait 'til you reach 1:50 mark. Yeah, more contrasts are coming your way, but I won't spoil the moment. To sum up: If I had the patience and mental clarity to make a list of the year's best records, I have no doubt this Vestiges-Panopticon split would be on it. Here, both bands use the visceral, cathartic power of metal as a carrier of divergent musical ideas and emotions. It's a 38-minute collection of vibrant, moving, creative music that's well off the beaten path but damn well deserves to be on everyone's radar screen.